The month of February was generally cold specially in the early morning and early evening due to strong surge of northeast monsoon, presence of tail end of a cold front.

Partly cloudy to Cloudy skies with isolated light rains was experienced over Cagayan Valley region, CAR, Aurora, Quezon and Bicol region and was extended on the eastern Visayas and Caraga region on the latter part of the month. While Metro Manila and rest of Luzon mostly experience partly cloudy skies. The rest of Mindanao experienced partly cloudy to cloudy skies with isolated rainshowers due to localized thunderstorms. In some days of the month, when cold surges of Northeast monsoon intensified and or the presence of tail- of cold front affected the extreme northen parts of Luzon experienced cloudy skies with light rains.

Generally moderate to strong winds coming from the northeast prevailed over Northern Luzon and eastern section of the country. While light to moderate from northeast over the rest of the archipelago.

Derived Soil Moisture Condition (rainfed areas): Wet – Surigao City; Moist – Baler, Infanta, Romblon, Sorsogon, Hinatuan City, Dry – rest of the country.

Another frost episode continued to occur in Atok, Benguet last February 12-14 2019. Frost continues to affect vegetables in some parts of Atok, Benguet due to recent temperature drop and was specially observed in patches in creek areas and not in gardens. Frost, locally known in Benguet as "andap" occurs annually in some parts of Atok, Benguet during the cold season from December to February.

The low temperatures observed in the upland valleys can result to the formation of frost that can cause injury to existing crops. Frost damage to crops is the result of the extracellular ice formation inside the plant's tissue. Frost protection methods (e.g. sprinklers) are used to mitigate the damages of frost (Snyder et. al, 2005).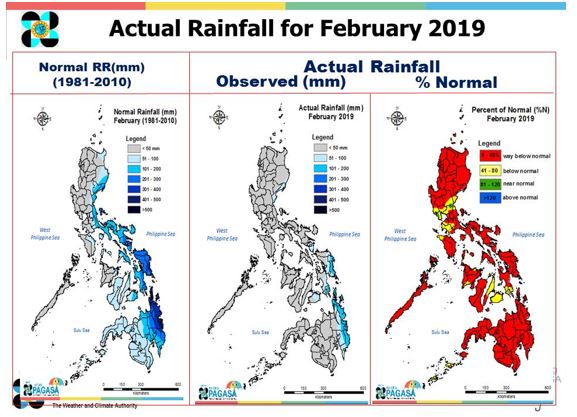 Land Preparation: Rice & Corn:
Planting:
Type 1 climate – rice, peanuts, mungo, beans, patani, string beans, celery, eggplant, cauliflower, mustard, melon, watermelon, sweet potato, cucumber, okra, patola, squash, gabi, ginger, ubi, - western parts of Luzon, Mindoro, Negros and Palawan;
Type II climate – Rice (lowland) - corn, peanuts, bountiful beans, batao,cowpea, soybean, mungo, cadios, seguidillas, tapilan, cabbage, cauliflower,celery, mustard, pechay, ampalaya, watermelon, eggplant, okra,squash, tomato, sweet potato, gabi,ginger, ubi, cassava, spinach, beets, jute, and cassava – Catanduanes, Sorsogon, eastern part of Camarines norte and Camarines Sur, eastern part of Quezon and Aurora, eastern part Leyte and eastern part of northern Samar, large portion of eastern Mindanao
Type 111 climate – Corn, third crop peanuts, mungo, string beans, peas, tomatoes, upo, sweet potatoes, radish, sinkamas,, chayote, sweet peas, arrowroot, beets, - western part of Cagayan, Isabela, Nueva Viscaya, east of Mt. Province, southern Quezon, Bondoc peninsula, Masbate, Romblon, Northeast Panay, eastern Negros, central and southern Cebu, part of northern Mindanao, most of eastern Palawan;

Type 1V climate –

Corn, celery, mustard, lettuce, pechay, eggplant, patola, squash, ampalaya, upo, ampalaya, gabi, cassava, carrots,sesame, garlic, and beets-

Batanes provinces, northeast Luzon,western Camarines norte and Camarines sur, Albay, eastern Mindoro, Marinduque, western Leyte, northern Negros, and most of central and southern Mindanao.
Establishment stage of the crop: (Germination/Pre-emergence/Seeding)
Transplanting: (Vegetative phase)
Vegetative Stage:
Tillering
Head development: Rice and Corn: some farms in Reg. 4-B, some areas in Reg 8
Flowering Stage:
Heading: (Flowering stage) Rice - southern Luzon, Reg. 1V-B, central, eastern and southern Mindanao, eastern and central Visayas; Corn – northern and southern Luzon, central Visayas, central Mindanao; Mangoes – northern, central Luzon; central Visayas
Silking: Corn
Tasseling: Corn - northern, central and southern Luzon, eastern and centralVisayas, northern, northeastern and central Mindana
Reproductive Stage:
Shooting/(Rice- start of Reproductive Phase):
Panicle Formation – Rice: southern Luzon, central and eastern Visayas, western Luzon, central Mindanao
Yield Formation: Rice (lowland, irrigated)) – eastern and centralVisayas, central & southern Luzon, northern Mindanao; Corn – Ilocos region, Cagayan, eastern and cental Visayas;
Maturing/Ripening Stage - Rice (lowland, irrigated)) – central & southern Luzon, central and eastern Visayas, northern, central and southern Mindanao; Corn – northern Luzon, central and eastern Visayas, most parts of Mindanao; Vegetable crops: chayote, ampalaya, okra, tomatoes, eggplant, pineapple, stringbeans, cabbage, cucumber, spinach, carrots, watermelon - in most farm areas of the country;
Harvesting:
Rice- northern and central Luzon, central Visayas , northern, central and southern Mindanao; Corn – northern Luzon, Quezon, central & eastern Visayas, northern, central and southern Mindanao
Fruit trees, fruit vegetables & leafy vegetables – mangoes, pineapple, banana, melon, pomelo, guyabano, calamansi, garlic, onions, tomatoes, eggplant, string beans, okra, ampalaya, peanuts, squash, cabbage, upo, patola,radish, ginger, sweet pepper, carrots, pechay, lettuce, cauliflower,broccoli, celery, spinach, sweet peas, mustard, cabbage - most vegetable farms in Luzon, most parts in Visayas and Mindanao ;
Root Crops - Cassava, sweet potatoes, potatoes - in most farm areas;

Other Crops – Cacao

- Davao, central Visayas; Sugarcane – eastern Visayas; Coffee – northern and southern Luzon, northern and central Mindanao; Coconut – Region 1V-A, Bicol Region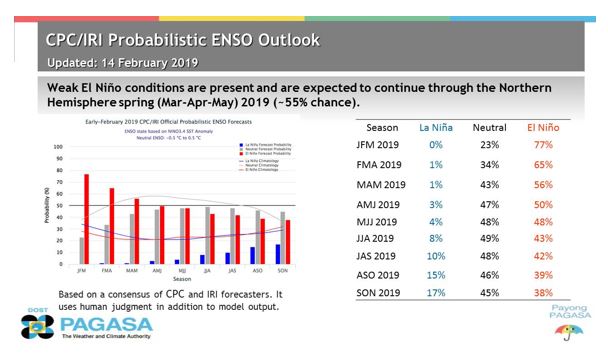 Climate-Smart Advisories
March and April are usually the dry months or dry period of the country. However, this year, is expected to be drier than the normal dry season. Farmers are advised to watch out the burst of forest fires or witch fires especially those on dried grasslands and those areas with plant like eucalyptus trees, as its leaves release methanol compounds in the air when triggered by high temperature. Farmers in areas mentioned in the outlook which will be affected by the way below normal rainfall for the month should seek immediate help to their agricultural technicians for proper ways and schemes to prevent the loss of their crops.

Agroclimatic Outlook:
Northeasterly surface windflow will slowly change to easterly windflow and ridge of High Pressure Area will be experienced during the month. This will bring good weather, warm and humid environment mostly in parts of Northern Luzon, Cordilliera administrative region (CAR) Central Luzon, NCR and some parts of CALABARZON and MIMAROPA.

Easterly windflow will prevail over the archipelago. Slowly weakening northeast monsoon will also observe especially in extreme northern part of Luzon.

Rainfall will be less (way below normal) of the western part of Luzon. Below normal condition in the rest of Luzon and most parts of Visayas and Mindanao.

Temperature range for upland farms will be 13 ºC – 31ºC and 24 ºC - 37ºC for lowland farms

Relative Humidity will be from 45% to 90%.

Weak El Nino is present in the Tropical Pacific with 55% chance to continue March to May 2019.
Figures 1,2, 3 & 4 Images courtesy of CLIMPS
Climate Map by PIAS
*Philstar.com-Jan 31,2019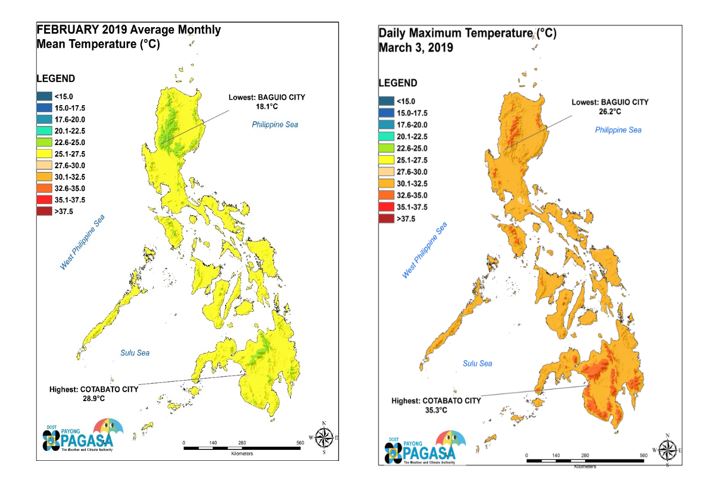 MA. FE. E. VILLAMORA
OIC, FWSS, CAD
EDNA L. JUANILLO
Chief
Climatology and Agrometeorology Division (CAD)