During the month of February, the weather systems that affected the country were the northeast (NE) monsoon, tail-end of the frontal system (TEFS) or shear line, easterlies, localized thunderstorms, tropical cyclone (TC), and low pressure area (LPA).
Severe Tropical Storm "Auring" entered the Philippine Area of Responsibility (PAR) on February 17. It became an LPA before making landfall in Bicol Region on February 22. It brought bad weather over Bicol Region, Eastern Visayas, Central Visayas, CARAGA, Davao Region and some areas in Northern Mindanao.
Derived Soil Moisture Condition (rainfed areas):
Wet – most areas of the country

Moist – Aparri, Calayan, Baler, Rizal, San Jose, Romblon, Pag-asa Island, Iloilo, Maguindanao, Hinatuan, Tagum, Nueva Ecija

Dry – Rest of Cagayan Valley, Ilocos Region, rest of Central Luzon, National Capital Region (NCR), Batangas, rest of Palawan Peninsula, South Cotabato, Albay, Dumangas, Southern Leyte

Most parts of the country generally experienced above normal rainfall conditions (Figure 1), except in the central part of Luzon, where way below to below normal rainfall conditions were observed and in the northeastern part of CARAGA, where near normal rainfall was experienced. Borongan Synoptic Station recorded the highest total monthly rainfall (839.4 mm) followed by Sorsogon Synoptic Station (713.4 mm).

Generally, near to slightly below average surface air temperatures were felt in most parts of the country (Figure 2). The highest maximum temperature for the month of February has reached 35.8°C in San Jose, Occidental Mindoro (February 25) while the coldest temperature of 15.4°C was recorded in Baguio City (February 20).

La Niña Advisory #5 was issued last 04 February 2021. Moderate La Niña persists across the tropical Pacific Ocean and

will likely to continue through January-February-March 2021 season, with more than 50% chance of returning to ENSO-Neutral condition during March-April-May 2021 season.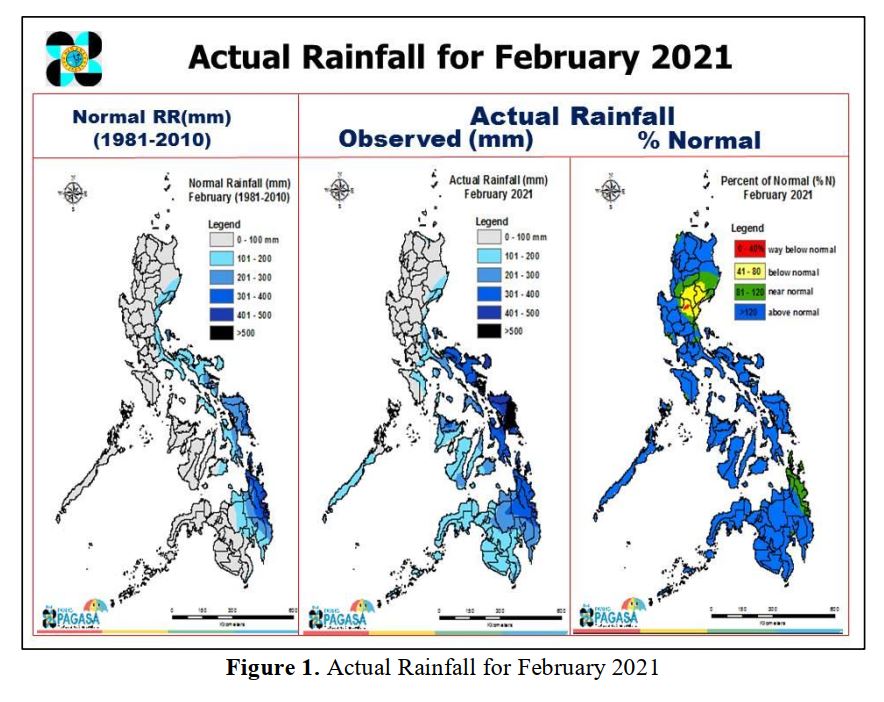 Land and Seedbed Preparation – (irrigated rice and corn fields, other cash crop plantation, small and medium farm areas)

In most farm fields of the country, farmers continue to prepare the land and seedbeds for irrigated, rainfed and upland farms.
Planting and Transplanting (broadcasting / direct seeding – for rice, corn, conventional way/ by rows - other cash crops)
Type I Climate (western parts of Luzon, Mindoro, Negros and Palawan) – palagad rice, tomato, melon, sitaw, dry season corn, munggo, cucumber, patani, tomato, upo, cauliflower, peanut, patola, garlic, cabbage, broccoli, kutchai, radish, beets, ampalaya, watermelon, sweet potato, celery, chayote, eggplant, squash and sweet pepper
Type II Climate (Catanduanes, Sorsogon, eastern part of Camarines Norte and Camarines Sur, eastern part of Quezon and Aurora, eastern part of Leyte and eastern part of Northern Samar, large portion of eastern Mindanao) – irrigated rice, sweet peas, white potato, beets, eggplant, cucumber, lettuce, cauliflower, onion, gabi, patola, okra, squash, sweet potato, radish, ampalaya, pechay, watermelon, carrot, cowpea, sincamas and dry season corn
Type III Climate (western part of Cagayan, Isabela, Nueva Vizcaya, east of Mt. Province, southern Quezon, Bondoc Peninsula, Masbate, Romblon, northeast Panay, eastern Negros, central and southern Cebu, part of northern Mindanao, most of eastern Palawan) – irrigated rice and third crop corn, cowpea, seguidillas, cadios, bountiful beans, soybean, okra, third crop peanut, melon, cabbage, cauliflower, tomato, squash, eggplant, garlic, upo, white potato, ginger, beets, cassava, lettuce, pechay and ampalaya,
Type IV Climate (Batanes provinces, northeast Luzon, western Camarines Norte and Camarines Sur, Albay, eastern Mindoro, Marinduque, western Leyte, northern Negros, and most of central and southern Mindanao) – irrigated rice, corn, sweet potato, cucumber, peanut, sweet peas, soybean, mustard, beets, carrot, cassava, cauliflower, radish, potato, ginger, cabbage, okra, sitaw, ampalaya, upo, white potato, gabi, squash and watermelon.
Establishment Stage (germination, pre-emergence, seedling, transplanting)
Rice and corn – in some selected small farm areas of the country

Cabbage, broccoli, kutchai, ampalaya, cabbage, watermelon, patola, tomato, garlic, munggo, patani, tomato, eggplant, cucumber, upo, melon, cowpea, soybean, peanut, sitaw, cauliflower, sweet pepper and beets – in most areas of the country
Vegetative Stage (tillering, head development)
Rice and corn – in most farm areas of the country

High yielding cash crops such as cauliflower, ubi, cucumber, cabbage, eggplant, onion, sweet pepper, cassava, sweet potato, patola, sitao, mustard, chayote, garlic, carrot, squash, bountiful beans, pepper, condol, mustard, peanut, cadios, potato, okra, ginger, gabi and lettuce – in most farm areas of the country
Flowering Stage (Heading – rice; Tasseling/Silking – corn) – in most farm areas of the country
Maturing/Ripening/ Harvesting Stage (Rice and Corn) – farms in Cagayan Valley and Ilocos Region, selected farm areas in Central Luzon, Mindoro, Bicol, Southern Cebu, Bohol, Eastern Visayas, Northern and Southern Mindanao, and rice plains in Davao.
cauliflower, broccoli, celery, citrus, guyabano, onion leeks, red onion, papaya, wombok cabbage, pineapple, calamansi, chayote, baguio beans, banana, carrot, native pechay, alugbati, malunggay, mustard, lettuce, spinach, sitaw, white onion, upo, sweet pepper, gabi, cassava, sweet potato, eggplant, kangkong, ubi, arrowroot, cassava, ginger, potato, tomato and mango
rice, sugarcane, jackfruit, lemon, mango, pomelo, dalandan, pechay, eggplant, guyabano, banana, papaya, patola, carrot, avocado, cabbage, pechay, gabi, upo, sitaw, sweet potato, ampalaya, tomato, squash, chayote and cucumber
corn, patola, pineapple, carrot, kangkong, cucumber, jackfruit, pomelo, sitaw, tomato, lettuce, cabbage, pechay, ampalaya, eggplant, onion, sweet potato, guyabano, durian, mango, avocado, squash, celery, upo and papaya

Farm Operations: (some farm activities are affected by Community Quarantine)

Land and seedbed preparations, watering activities and irrigation using pump in dry rainfed areas.

Planting and transplanting of vegetable seedlings, cultivation, fertilizer application, harvesting, drying and milling of rice, corn and sugarcane were done. Harvesting of matured crops and delivery of produce in the market were observed.

In this time of COVID-19 pandemic, the agricultural technicians, farmers and farm enthusiasts may continue to share and browse some tips and additional knowledge on potential crop production, early warning for pests and diseases infestations and water management strategies for specific areas by visiting the website of SARAI project (https://sarai.ph) and search KlimAgrikultura by ACIAR project. For daily farm weather and climate conditions, they can also visit PAGASA website (http://bagong.pagasa.dost.gov.ph/) and/or access the Payong PAGASA mobile application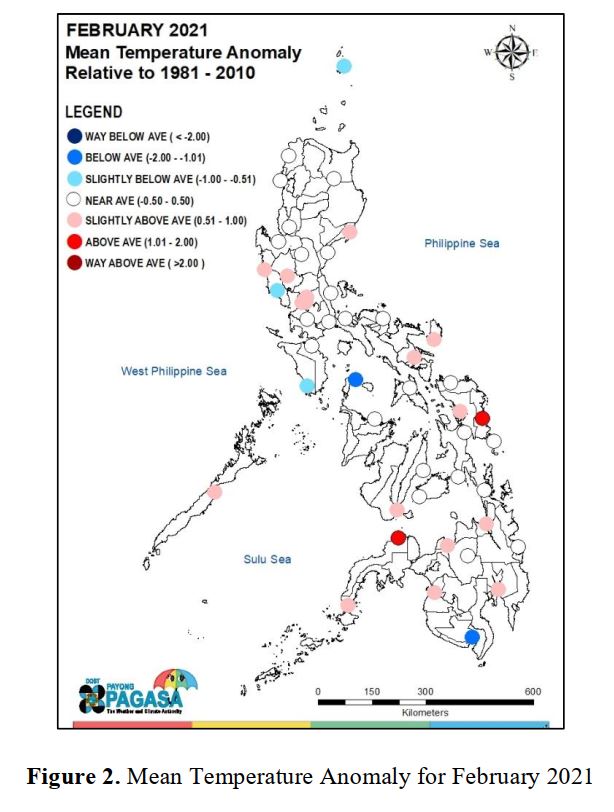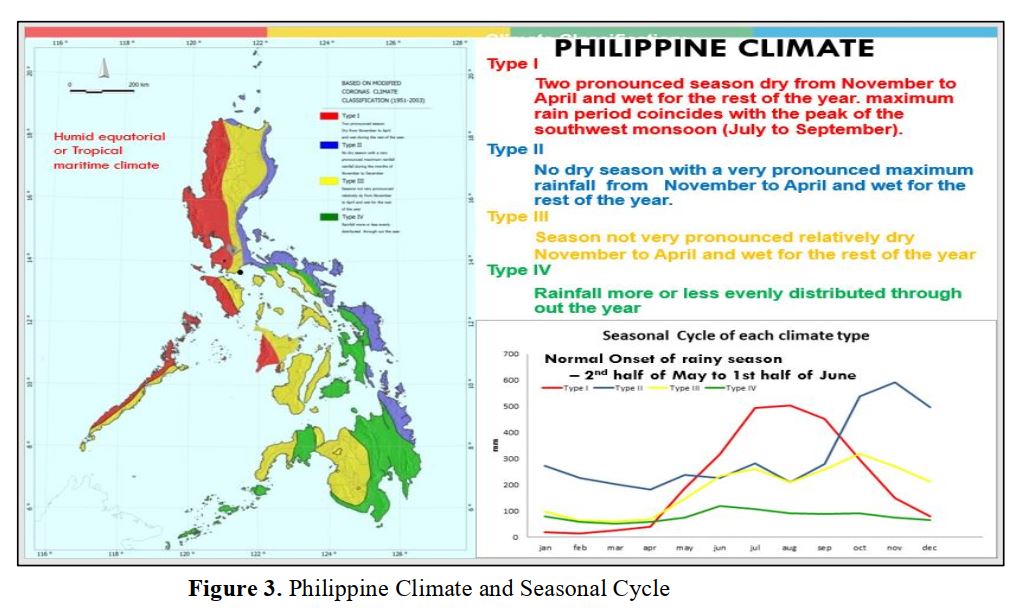 The weather systems that will likely affect the whole country during the month of March are the northeast (NE) monsoon, low pressure area (LPA), easterlies, localized thunderstorms, and zero or one tropical cyclone (TC) may enter or develop inside the Philippine Area of Responsibility (PAR).
Near to above normal rainfall conditions will likely be experienced over most parts of the country with below to near normal rainfall conditions in some areas in Ilocos Region (Figure 4).
Near average to slightly warmer average temperatures will be experienced over National Capital Region (NCR), the western section of Central Luzon, Palawan, and most areas in Mindanao while slightly cooler to near average temperatures are expected over remaining areas of the archipelago (Figure 5).
Luzon will have extreme temperature range of 11.3ºC – 28.8ºC for upland farms while 14.7ºC – 38.3ºC for other farms in Luzon; the lowland farms in Visayas will have 19.5ºC – 36.2ºC; and the upland farms in Mindanao will have 14.1ºC – 34.4ºC and 17.5ºC – 38.7ºC for lowland farms.
ENSO Alert System Status is in La Niña Advisory. La Niña will likely continue through March-April-May 2021 with rising probability of returning to ENSO-neutral during April-May-June 2021 (Figure 6). La Niña increases likelihood of experiencing above normal rainfall condition that could lead to adverse impacts (e.g. flooding, landslide, etc) over highly vulnerable areas
PAGASA will continue to closely monitor the climate conditions that may affect the country and updates shall be issued as appropriate. For further information, please contact the Climatology and Agrometeorology Division (CAD) at telephone number 8284-0800, local 905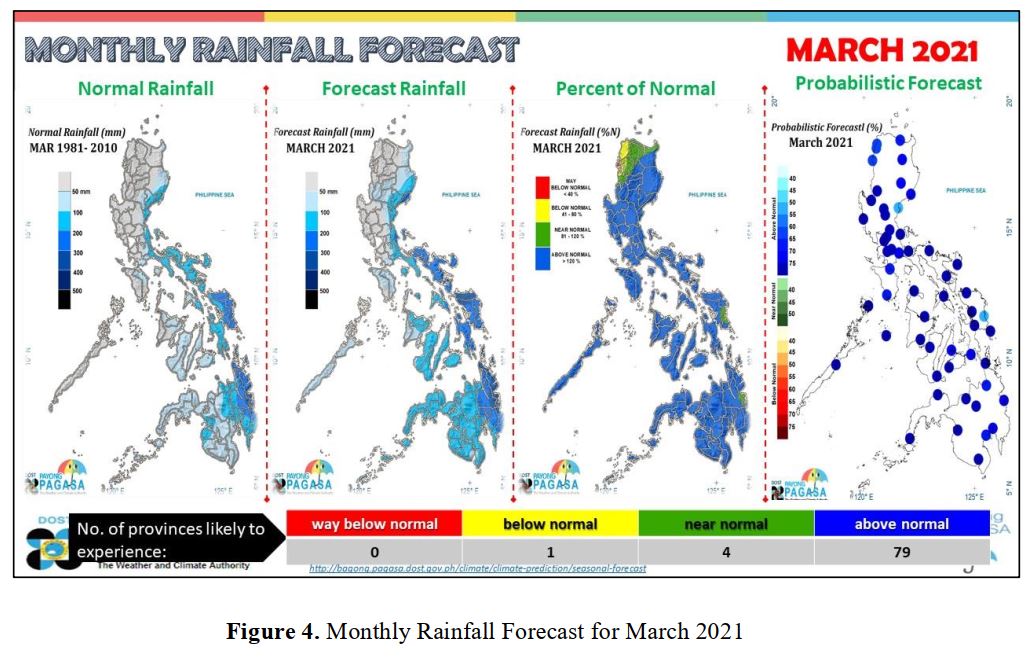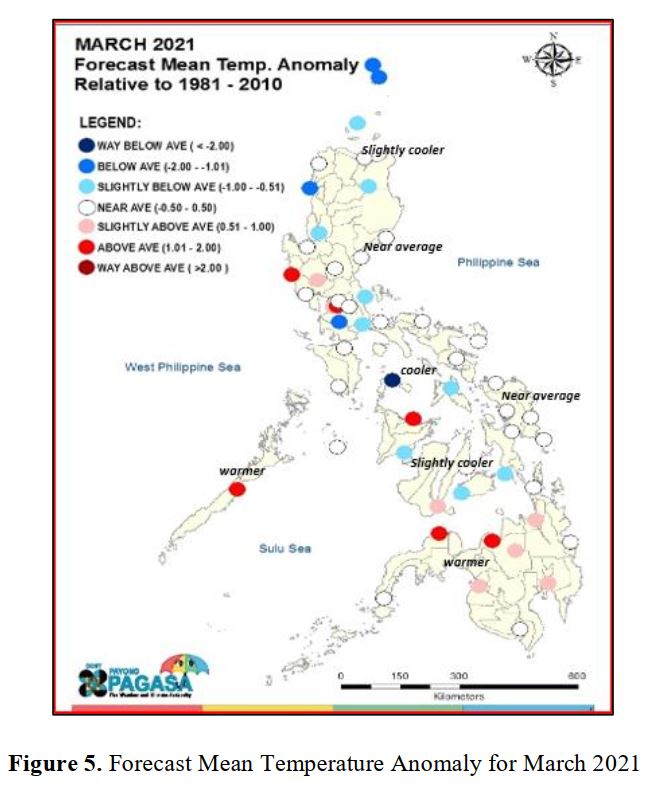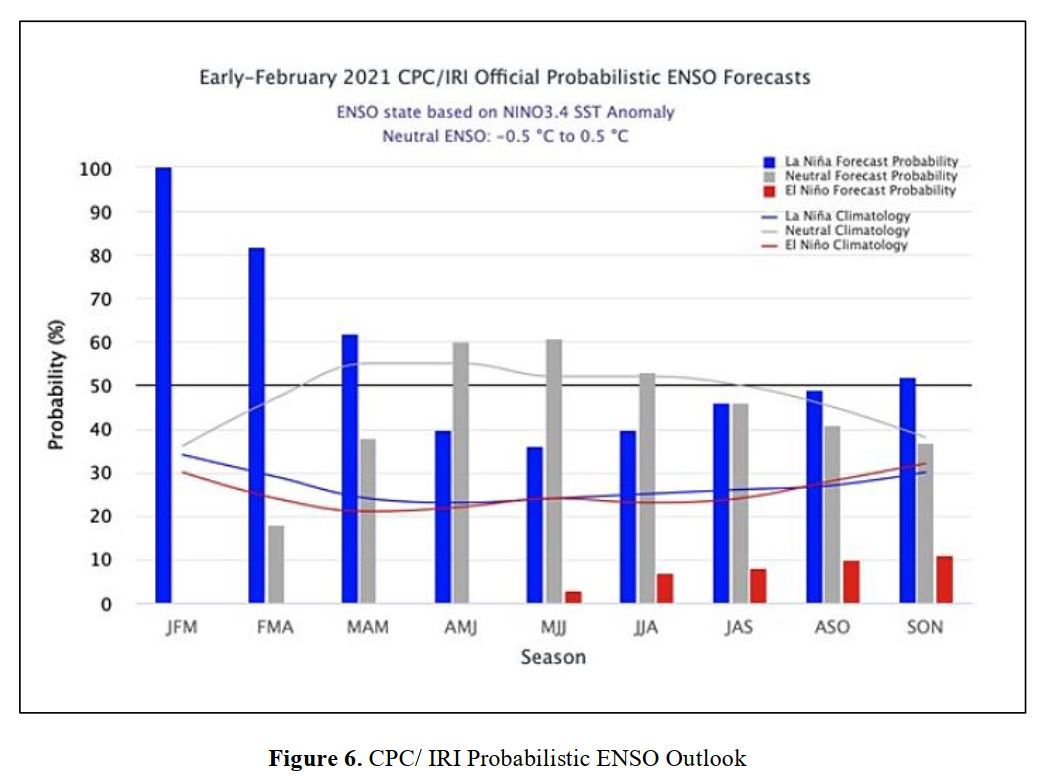 Prepared by: Uploaded by: Checked /Verified by: Approved by:
RAAM / SCF DPO JAM EDNA L. JUANILLO
Chief, CAD