Tropical Depressions "Egay" and "Falcon" prevailed during the first half of July and the southwest monsoon and Low Pressure Area (LPA) on the second half of the month.
Western and northern section of the Luzon and of Visayas experienced monsoon rains while Bicol region, eastern Visayas experienced cloudiness with scattered rainshowers and thunderstorms. While the rest of the archipelago had partly cloudy to cloudy skies with isolated rainshowers and thunderstorms especially during afternoon or in the evening.
Generally, the country experienced light to moderate winds from south to southwest over Visayas and Mindanao and moderate to strong winds from southwest for the rest of the country.
A transition from El Niño to ENSO-neutral is expected in August 2019 and favoured to emerge in September 2019 up to first quarter of 2020.
Derived Soil Moisture Condition (rainfed areas):
WET- Ilocos Sur, Pangasinan, Batanes, CAR, Region 3, NCR, Rizal, Laguna, Capiz, Negros Oriental, Cebu, Borongan, Bukidnon, Davao (1st decade of July); Ilocos Sur, Pangasinan, CAR, Baler, Zambales, Rizal, NCR, Capiz, Borongan, Bukidnon, Region11; (2nd decade of July); Region 1, CAR, rest of Region 3, NCR, Rizal, Laguna, San Jose, Cuyo, Coron, Sorsogon, Albay, Capiz, Aklan, Borongan, Bukidnon, Davao City, PCA – (3rd decade of July);
MOIST – Infanta, Sorsogon, Albay, Aklan, Zamboanga del Norte, PCA, Tagum, Surigao del Sur (1st decade of July); Region 2, rest of Region 3 and 4, Cuyo, Catanduanes, Zamboanga del Norte, Surigao del Sur(2nd decade of July); Region 2, Aurora, rest of Region 4A and Region 4B, Masbate, Negros Oriental, Catbalogan, Zamboanga del Norte, rest of Region 5 and 6, Surigao del Sur (3rd decade of July);

DRY - rest of the country
The coldest areas in the upland farms, were experienced at 150C in Baguio and 180C in Bukidnon. Whereas, in lowland farms the coldest minimum temperature of 200C in Rizal and Mindoro was experienced .
The warmest areas with an observed maximum temperature in the uplands were from 260C up to 320C in Baguio and Bukidnon respectively. The lowland farms has experienced a 360C maximum temperature in Batangas, Infanta and Quezon while up to 370C in Tuguegarao.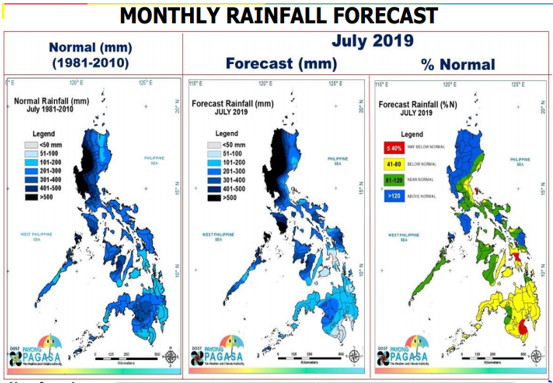 Land Preparation: Rice & Corn: Irrigated and rainfed fields/ Vegetable farms/plot gardens – still on-going in most parts of the country .
Planting (broadcasting / direct seeding- for rice, conventional way/ by rows - other crops)
Type 1 climate – Rice(irrigated and rainfed), corn, cassava, ginger eggplant, cucumber, bitter gourd, cucumber, sweet pepper, condol, chayote, jute, tapilan, cucumber, ampalaya, pechay arrow root, peanuts, lettuce, carrot, squash and beans such as batao, bountiful beans, cowpea, cadios, mungo, patani,, seguidillas, sitao, and soybeans -( in selected areas of the western parts of Luzon, Mindoro, Negros and Palawan)
Type II climate – Rice (lowland-irrigated, rainfed, upland), corn, peanut (third crop) cowpea, okra, patola,batao, squash, sweet pepper, lettuce, cassava, ampalaya, talinum carrots, ubi, gabi, ginger, string beans, sweet potato, arrowroot and patani– (in selected areas of Catanduanes, Sorsogon, eastern part of Camarines norte and Camarines Sur, eastern part of Quezon and Aurora, eastern part Leyte and eastern part of northern Samar, large portion of eastern Mindanao)
Type 111 climate – Rice (irrigated lowland, upland rainfed) corn, rainy season peanuts, patani, tapilan, peas, okra, eggplant, squash, soybeans, seguidillas, celery, mustard, sweet potato, ampalaya, chayote, cowpea, cucumber, pechay, kutchai, sweet pepper, cadios and string beans - (in selected areas in western part of Cagayan, Isabela, Nueva Viscaya, east of Mt. Province, southern Quezon, Bondoc peninsula, Masbate, Romblon, Northeast Panay, eastern Negros, central and southern Cebu, part of northern Mindanao, most of eastern Palawan).
Type 1V climate – Rice (lowland irrigated, rainfed, upland) corn, cauliflower, celery, carrots, cabbage, lettuce, chayote, pechay , mustard, okra, cucumber, patola, squash, soybeans, monggo corn, cadios, peanuts, sweet potatoes, eggplant, sweet potatoes, ampalaya,, sitao, seguidillas, cowpea, patola, squash, radish, gabi, sincamas, arrowroot, sesame, and cassava(in selected areas of Batanes provinces, northeast Luzon, western Camarines norte and Camarines sur, Albay, eastern Mindoro, Marinduque, western Leyte, northern Negros, and most of central and southern Mindanao.)
Establishment Stage ( germination, pre-emergence, seedling, transplanting) – Rice and Corn (irrigated, upland and rainfed), seasonal fruits and vegetables - in most farm areas of the country
Vegetative Stage (tillering, head development) - in most farm areas of the country
Flowering Stage ( heading – for rice) ( tasselling and silking – for corn) – Rice in some selected farm areas in Ilocos region, Central Luzon, Mindoro, Palawan, Bicol region, western and eastern Visayas, Bohol, Davao and Surigao farm areas.
Yield Formation / Grain Fixing Stage -
Maturing/Ripening Stage – mangosteen, rambutan, mangoes, papaya, durian, jack fruit, dragon fruit, pineapple, banana, duhat, and guyabano, most of leafy and fruit vegetables like ampalaya, eggplant, patola and tmatotes – most parts of the country.
Harvesting:

Fruit trees, fruit vegetables & leafy vegetables, root crops – tomatoes, eggplant, okra, squash, string beans, carrots, ampalaya, cabbage, mustard, pineapple, cauliflower, sweet peas, broccoli, papaya, mangoes, ginger, onions, celery, guyabano, siniguelas, banana, upo, watermelon, potatoes, kutchai patola, sweet pepper, peanuts, cassava, sweet potatoes, pechay, lettuce, radish, and spinach– most farm areas in the country

Farm Operations:

Weed removal, fertilizer application, cultivation, transplanting and planting – on-going in most farms of the country

Climate-Smart Advisories
The month of August is usually the peak of the wet season which the Southwest monsoon or locally known as "habagat" prevails and brings rains over the western section of Luzon and Visayas. Generally near normal with patches of above rainfall conditions are expected in some areas of CALABARZON, Mimaropa, NCR, Bicol Region and Isabela. Likewise, isolated thunderstorms and rainshowers are still expected to occur in most parts of the country. Farmers are advised to regularly consult the expertise of agricultural workers of insect pest occurrence for each crop during rainy season.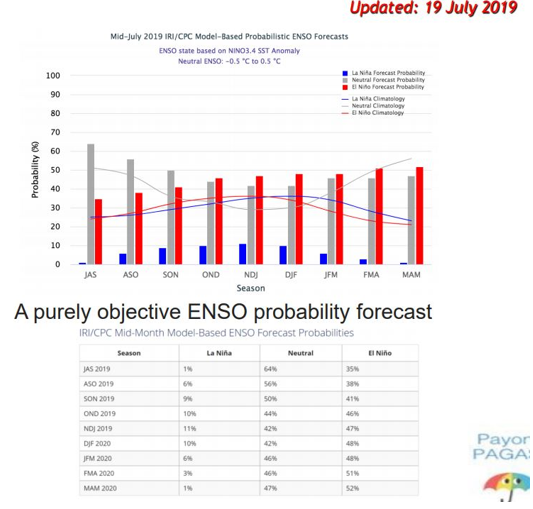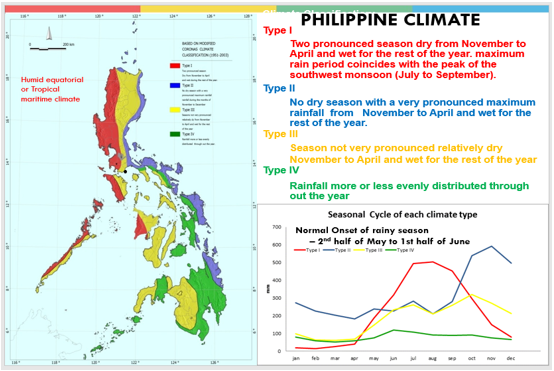 Southwest monsoon will be experienced particularly in western section of Luzon including western Visayas Isolated rains and thunderstorms are still expected to experience in most parts of the country.

Rainfall will be near normal to above normal conditions over some areas of Luzon and Visayass, while generally below normal over southern portion of Mindanao.

Two or four tropical cyclones are expected to enter the PAR.

Temperature range for upland farms will be 15ºC – 25ºC and 24ºC - 38ºC for lowland farms.

Relative Humidity will be from 55% to 100%.
ENSO-neutral is favored to emerge in September 2019 until the first quarter of 2020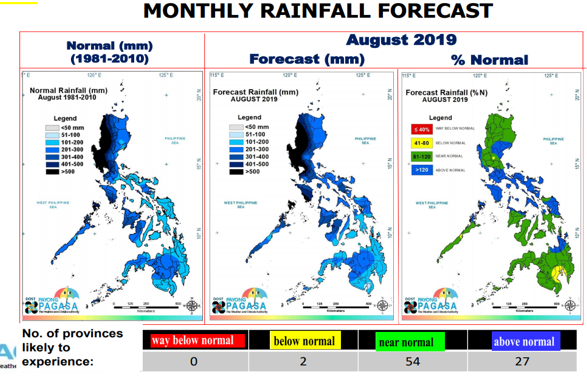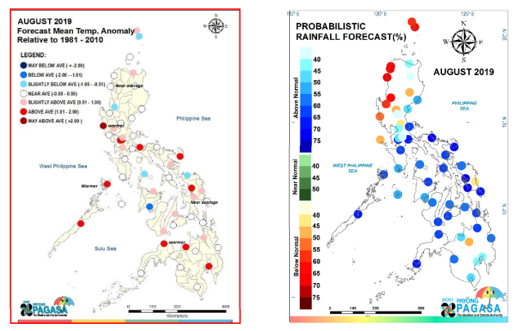 MA. FE. E. VILLAMORA
OIC, FWSS, CAD


EDNA L. JUANILLO
Chief
Climatology and Agrometeorology Division (CAD)

All Figures are courtesy of CLIMPS