The easterly wind prevailed during the month of April that generally manifests fair or good weather.

Partly cloudy to cloudy skies with isolated light rainshowers were experienced over Bicol Region, Cagayan Valley, CAR, Aurora, Quezon, Bicol region, eastern Visayas and Mindanao region during the month. Meanwhile, mostly partly cloudy skies prevailed in Metro Manila and rest of the country.

In some early days of the month, Cagayan Valley, CAR and provinces of Batanes experienced frontal system and tail-end of cold front which brought cloudiness with light rains.

Generally moderate to occasionally strong winds from the east prevailed over the eastern section of the country while light to moderate from east to southeast and east to northeast prevailed over the rest of the archipelago.

Derived Soil Moisture Condition (rainfed areas): Moist – Baler, Casiguran; Dry – most of the country

Weak El Niño continued to persist in the Tropical Pacific;

Majority of climate models suggest El Niño condition to continue thru Jun-Jul-Aug 2019 season. Meteorological and agricultural impacts are present.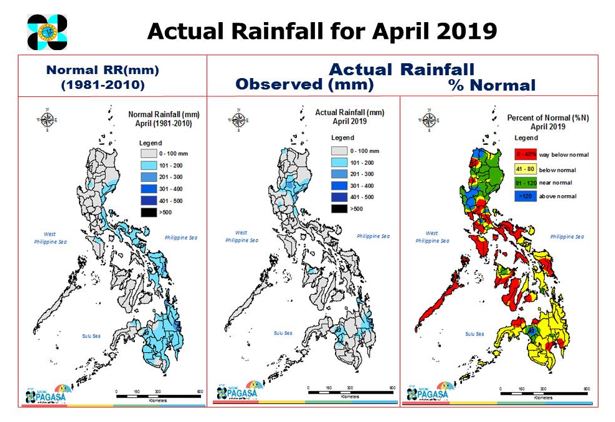 Land Preparation: Rice & Corn:
Irrigated fields in Region 2 ; Vegetable garden - Region 2 and Baguio.
Planting:
Type 1 climate

– pechay,lettuce, carrots - western parts of Luzon, Mindoro, Negros and Palawan;

Type II climate

– Rice (lowland/irrigated) - cabbage, cauliflower,celery, mustard, pechay, ampalaya, sweet potato okra, eggplant, tomato, squash, , gabi,ginger, ubi, cassava, spinach, beets,– Catanduanes, Sorsogon, eastern part of Camarines norte and Camarines Sur, eastern part of Quezon and Aurora, eastern part Leyte and eastern part of northern Samar, large portion of eastern Mindanao

Type 111 climate –

Leafy vegetables -

western part of Cagayan, Isabela, Nueva Viscaya, east of Mt. Province, southern Quezon, Bondoc peninsula, Masbate, Romblon, Northeast Panay, eastern Negros, central and southern Cebu, part of northern Mindanao, most of eastern Palawan;
TYPE 1V climate – Corn, celery, mustard, lettuce, pechay, eggplant, patola, squash. (moist and wet areas), - Batanes provinces, northeast Luzon, western Camarines norte and Camarines sur, Albay, eastern Mindoro, Marinduque, western Leyte, northern Negros, and most of central and southern Mindanao.

Maturing/Ripening Stage -

Rice and Corn (lowland, irrigated)) – most farm areas of the country; Fruits, Vegetables and rootcrops: melon, papaya, banana, mango, watermelon, guyabano, ampalaya, chayote, spinach, okra, tomatoes, eggplant, pechay, stringbeans, cabbage, cucumber, carrots, lettuce, squash, broccoli - in most farm areas of the country;
Harvesting:

Rice and Corn

– most farm areas of the country

Fruit trees, fruit vegetables & leafy vegetables, root crops –

calamansi,

upo, patola, tomatoes, eggplant, okra, ampalaya, squash, string beans, cabbage, radish, ginger, sweet pepper, carrots, cauliflower, broccoli, sweet peas, mustard, cabbage pechay, lettuce, celery, spinach, garlic, onions, peanuts, cassava, sweet potatoes, potatoes mangoes, guyabano, pineapple, papaya, banana, melon - most vegetable farms in Luzon, most parts in Visayas and Mindanao ;

Other Crops –

Coffee – northern and southern Luzon, northern and central Mindanao;

Coconu

t – southern Luzon

Applying fertilizer– CAR; Watering activities are in progress – CAR, Region 5, 7 and Region 10. Sun drying, theshing and milling of newly harvested rice and corn – most parts of the country.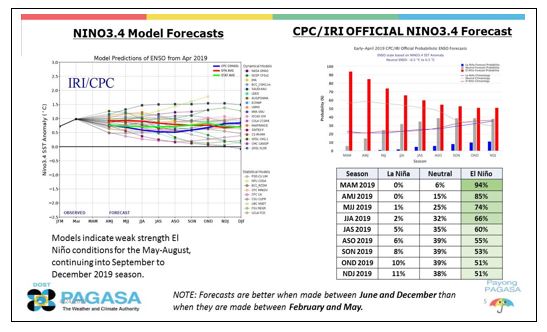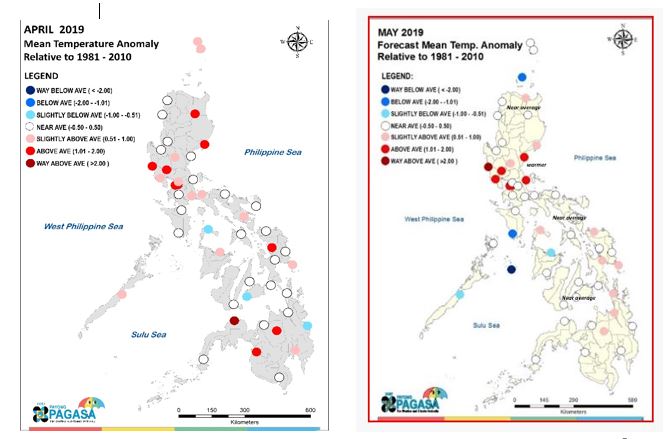 Climate-Smart Advisories
May is the transition from dry season to the wet season of the country. This means more thunderstorms and rainshowers are expected to occur in most parts of the country for this month. Farmers are advised to watch out for the occurrence of lightning and thunderstorms. Refrain from going into farms, fields especially in the afternoon since this is the time where thunderstorms start to arise. Farmers in areas in most parts of Luzon, western Visayas and Mindanao will have near normal rainfall condition while Bicol region, central and eastern Visayas will still have below normal rainfall condition. Relating the concept of the coming of the rainy season, early folks term "Agua de Mayo", a Spanish term means "a blessed day" or signifies that something that comes at the right moment. That is why early folks believe that Agua de Mayo – the first rains in the month of May (rainshowers with rumbles of thunderstorms) were believed to be healing, holy rains and they tend to let children play and bathe under the first rains of May.* This is a way of farmers of welcoming the start of planting season.
Agroclimatic Outlook:
Easterlies, Ridge of High Pressure Area, oscillation of ITCZ will be experienced during the month. Warm and humid condition will generally observe in most parts of the country.

Isolated occurrences of hail stones and or tornadoes in some parts of the country might be observed due to intense thunderstorms.

Rainfall will be getting more to near normal condition (from way below normal during the previous month) on the areas of

Luzon, Western Visayas and Mindanao

. Below normal rainfall condition to the rest of the country particularly Bicol Region, central and eastern Visayas.

Temperature range for upland farms will be 15 ºC – 26ºC and 26 ºC - 38ºC for lowland farms

Relative Humidity will be from 55% to 97%.

Weak El Nino condition is still present in the Tropical Pacific for June -August 2019.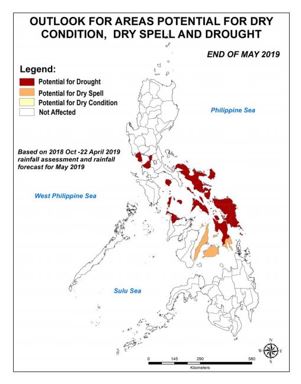 MA. FE. E. VILLAMORA
OIC, FWSS, CAD
EDNA L. JUANILLO
Chief
Climatology and Agrometeorology Division (CAD)
Figures 1,2, 3 & 4 Images courtesy of CLIMPS
Climate Map by PIAS
*
www.philstar.com
/opinion/rocesandthorns/ 05/04/18