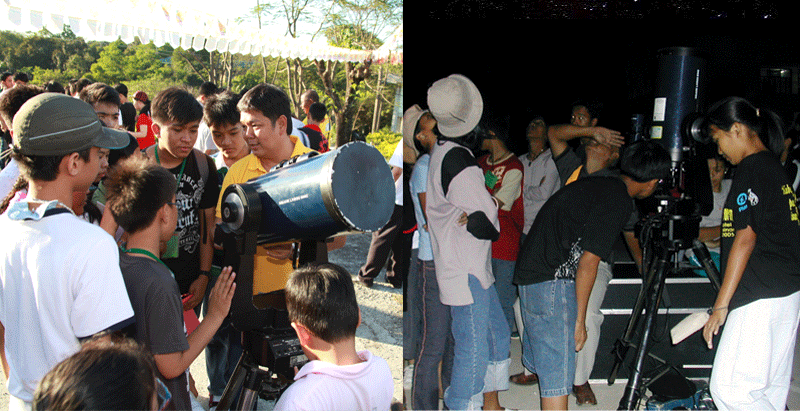 The PAGASA Astronomical Observatory is located inside the campus of the University of the Philippines, Diliman, Quezon City, conducts stargazing and telescoping sessions to interested astronomy enthusiasts, upon request. The session can either be conducted at the Observatory or at a specified venue of the requesting party/ individual. Letter of request should reach the Office of the Chief, Space Science and Astronomy Section, at least two weeks earlier than scheduled time, especially those, which will be conducted outside the PAGASA Observatory to allow the processing of necessary documents. The request letter can be addressed to:
Dr. Vicente B. Malano

Administrator, PAGASA
PAGASA Science Garden
BIR Road, Brgy. Central
Quezon City, Philippines 1100
ATTENTION: Engr. Ma. Rosario C. Ramos

Chief, SSAS
During the previous years, the 30-cm reflector-type telescope, which was permanently installed at the Observatory dome, is being used for the telescoping sessions. However, in May 2001, the Japanese Government donated a computer-based 45-cm telescope and was installed at the Observatory. Starting on February 16, 2003, the start of the celebration of the National Astronomy Week, the telescope is open for public use, after a series of adjustments made by the Japanese technicians.
Provided that the sky is clear, visitors can expect to have a glimpse of the famous bright stars like Vega and Sirius during the stargazing session. Planets such as Jupiter, Venus, Saturn, Mercury and Mars, including their satellites and the Moon can also be observed.
For residents of the cities of Davao, Cagayan de Oro, Cebu and Legazpi, stargazing and telescoping sessions can also be conducted at the PAGASA regional centers located in their area. One (1) 25-cm telescope in each of the above-mentioned sites are available for use. These telescopes were procured in May 1998 through the Grant-in-aid (GIA) project of the Department of Science and Technology (DOST), which is entitled "Promotion of Astronomy".